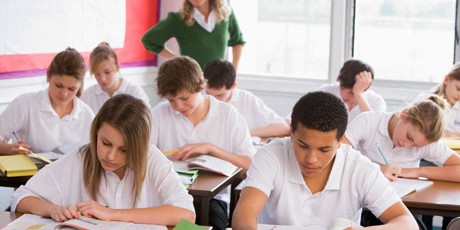 Academic research has shown that the indoor air quality within an educational environment can greatly impact the comfort and health of both students and staff.  This, in turn, can affect attendance, the ability to concentrate, student performance and testing success rates.
Air Quality Solutions can provide our public and private school customers, and other educational establishments, the tools needed to create and maintain optimal indoor air quality comfort and safety levels for learning environments.
Effective indoor air quality management within an educational environment can really make a vast difference to student and teacher performance.  It can also help give Ontario schools an extra edge in EQAO testing.
Air Quality Solutions offers unique and cost-effective solutions to our customers in the educational arena so that students can maintain their focus on learning within an environment that is optimized for success.  We are here to help our schools, colleges and other educational establishments maximize their learning potential.
Call Air Quality Solutions today and speak with one of our Certified Indoor Air quality Consultants to learn more about how optimized indoor air quality levels can help maximize a students learning potential.
PROTECT YOUR STUDENTS