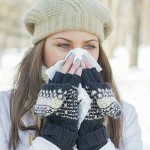 Tips To Combat Winter Allergies
Have you been enjoying this mild winter weather? Road crews and School administrators are, ski slopes and people who shovel or plow snow for a living, not so much and doctors with patients suffering from winter allergies are seeing an influx in appointments this year.
Some doctors who treat patients with allergies and asthma have stated that the lack of a cold snap and piles of snow have made it easier for outdoor mold to become a problem. As mold spores tend to multiply and are causing a lot more sneezing and sniffling than is usually prevalent at this time of year.
A culprit to usual fall allergies, mold is starting to wreak havoc during the winter months as well for allergy sufferers this year, with the milder than usual temperatures.
With live Christmas trees, scented candles and other smells of the holiday season also assist with the onset of allergies.
While over the counter medications are effective, it is best to protect yourself in other way as well. Here  are a few tips that can help you limit your suffering.
Limiting the number of scents throughout your home (scented candles, plants and even your Christmas tree can be a trigger for allergies);
Refraining from opening windows and letting in the mold particulates (while it may be 70 degrees outside, opening the windows will only provide opportunity for the mold spores to enter) ;
Washing clothing and linens in hot water can provide some relief to the airborne allergies (this helps to kill dust mites and remove any other spores that may have attached themselves to your clothing and bedding);
Turning on the exhaust fan while cooking ( will help remove excess humidity and odours);
Cleaning your carpets with a HEPA vacuum (can help limit dust mites and allergen levels);
Keep your bedroom an "allergy free" zone (we usually spend most of our time in our bedrooms, making sure no pets are allowed in your room, especially in your bed and using allergen reducing mattress and pillow covers can help);
Spraying live Christmas trees down with a hose before bringing them inside (to remove any mold from the tree, making sure to allow it time to dry before bringing it inside);
Install high efficiency furnace filters (they can catch up to 30% more allergens);
Keep your indoor humidity levels between 30 and 40 percent; and
Change the water and filters in your humidifiers.
While there is no guaranteed relief from allergies during the winter season, following these tips should at least bring you some relief this winter when battling allergies to mold, as a result of the warmer winter we are experiencing.
(Visited 61 times, 1 visits today)